Even a quick excursion requires careful planning in advance. Will you need to bring anything? What can you bring from home or leave there securely when you get there? Wearing CPAP machines can make things considerably more difficult, even though the majority of travelers already find this challenging.
The most widely used and successful treatment for sleep apnea is continuous positive airway pressure therapy, or CPAP therapy. Although the CPAP treatment requires a lot of equipment that isn't always convenient to carry, it may be able to cure your sleep apnea and enhance your ability to fall asleep.
It shouldn't be tough for you to enjoy your vacation if you're bringing your cpap machines and any essential supplies. To help you plan your packing and know what to bring, let's first look at the parts of your CPAP machines.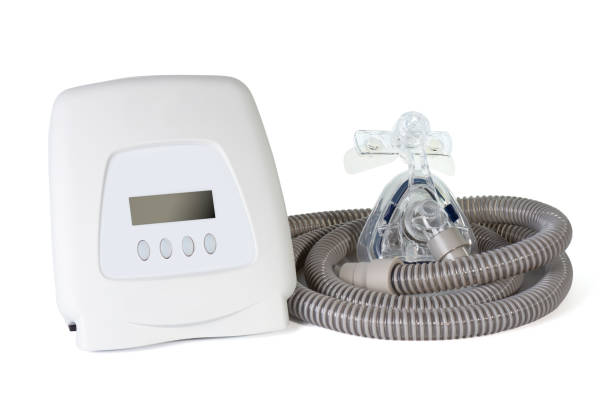 Important Components of Your CPAP Machine
Your CPAP machines is made up of the following three components:
As the engine sucks air from your area, it compresses it. Once the air is in your airways, you can breathe more easily thanks to the CPAP mask.
The air pressure-permitting hose that connects your CPAP mask to the equipment.
Some machines also come with a humidifier to avoid mouth, nose, or throat drying after use. The majority of devices additionally have an air filter that purges the air of irritants like dust and allergies.
Before going through our basic suggestions for taking your CPAP machines on the road, it's important to note some of the current vacation CPAP possibilities. Consider purchasing travel CPAP machines if you travel often, whether it be for business or pleasure, and keeping your luggage to a minimum is crucial to you.
Have a portable CPAP device
Your CPAP machines, for example, could be too hefty to set on your bedside table. Some persons who have sleep apnea travel with a portable CPAP machine as a consequence. These portable gadgets are lighter and smaller and operate on CPAP batteries.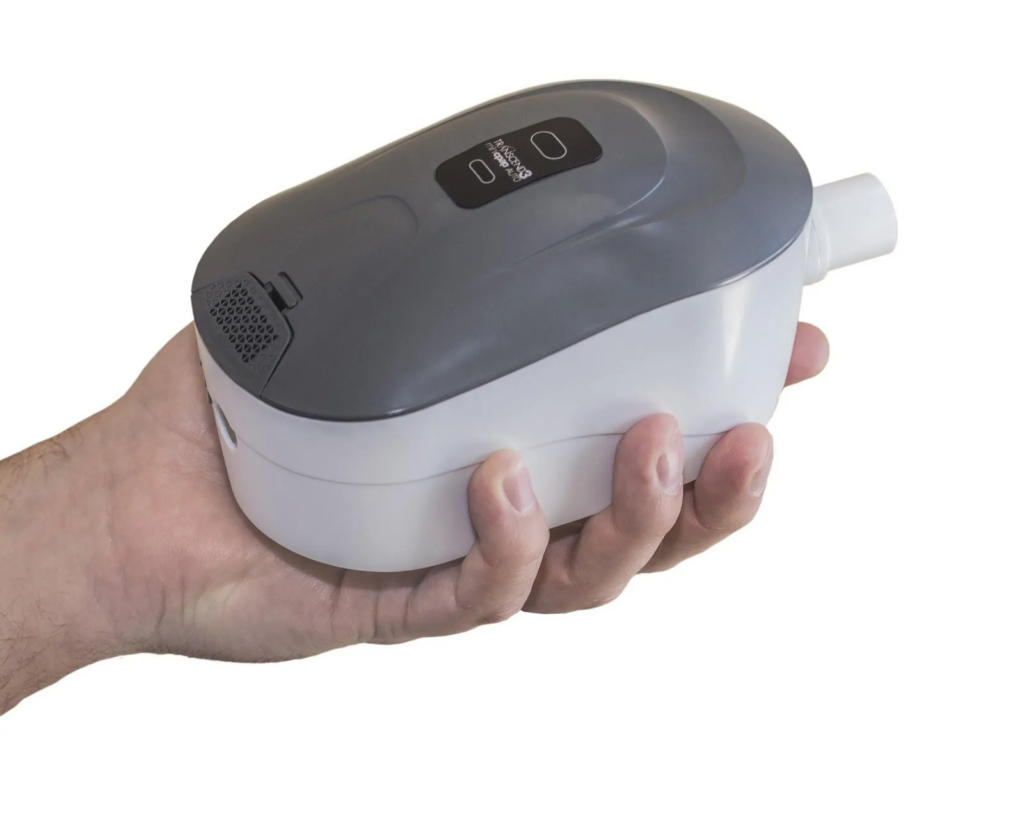 General CPAP Machine Travel Advice
Here are some crucial tips to bear in mind before departing, whether you're using portable CPAP machines or your regular CPAP machine:
Remember to use your own computer! Many individuals forget their CPAP supplies, despite the fact that this advice may seem apparent. It's crucial to keep up with your treatment every night, even if you're only taking a little vacation.
Use the carrying case that the manufacturer provides when travelling your equipment; it offers the greatest protection for the item and enables you to bring additional supplies if necessary.
Before packing your CPAP machines, make sure the humidifier is completely dry. Spills, leaks, and even equipment damage may be avoided in this way.
You may want to think about pulling the humidifier out of your machine and utilizing it alone for PAP treatment to save up more space in your trip baggage. We advise testing your ability to sleep comfortably without the humidifier using your machine in this manner before you go. If there isn't an electrical outlet close to your bed, bring an extension cable.
Bring a backup nasal cushion in case the one you're currently using breaks.
When you arrive at your location, be careful to protect your CPAP equipment from anything that might harm it. Take precautions, such as keeping it away from children and pets.
Travelling with CPAP machines
Even without considering your CPAP machines, traveling might be stressful. Despite the fact that it is safe to pack your CPAP machines in your checked baggage, many passengers nevertheless choose to bring it with them in their carry-on luggage out of caution.
Here are some tips from us on how to carry your CPAP machines, whether you're checking a bag or carrying it on.
Your CPAP machines should not be regarded as one of your carry-on luggage since it is one of the types of medical equipment protected by the Americans with Disabilities Act (ADA). To be sure, however, check with the airline of your choice.
When going through airport security, be sure to alert the Transportation Security Administration (TSA) staff that you are carrying a CPAP machine. You will be asked to take your machine from its carrying case and place it in a plastic container for inspection, much as you would with your shoes, clothing, and electrical items.
But you may leave your mask and hose in the carrying case. Before you leave the house, put your CPAP machines in a transparent plastic bag to protect it from any germs in the TSA queue if you're concerned about how clean the plastic bins are.
It's a good idea to keep whatever equipment you decide to bring on the aircraft beneath your seat rather than in the overhead storage. This lessens the chance that anybody or anything might be injured while flying.
Place your CPAP machines, which is still in its carrying case, in the center of the suitcase if you choose to check your bags. Another line of protection for your equipment will come from your clothing.
When traveling, use filtered bottled water in the humidifier rather than distilled water. When you go home, however, be sure to use distilled water once again.
If you decide to drive instead than fly when you travel with your CPAP equipment, there are fewer restrictions to consider. Here are some ideas that might significantly simplify things.
Be careful where you set your machine while packing your car since you don't want to arrive at your location with destroyed medical supplies. Everything should be packed with care, keeping it free from anything that might harm it or spoil it. Packing your equipment next to anything heavy that may collapse on top of it is not a smart idea.
Tighten the device's security to prevent movement while in transit.
Keep your machine away from the hatch or trunk lid of your car to avoid spills or damage when you arrive.
If you want to make the most of your trip, whether it's for business or pleasure, you should always be well-rested and awake. Even if transporting your CPAP machines and related equipment may seem like a hardship, maintaining your therapy is vital if you want to sleep better. You miss out on this chance and endanger your health by leaving your CPAP machines at home.
Traveling may be difficult but managing your CPAP treatment shouldn't be one of those difficulties. Even though it could take some getting used to sleeping in a new bed in a new area, obtaining a good night's sleep is essential for a joyful and safe journey.
If you drive, being sleep deprived and weary while operating a vehicle might endanger your whole family. Even if you won't be driving to your destination, you still need to be awake and in fantastic shape to have the most pleasurable vacation possible.
Setting CPAP Pressure
As the pressure you need is specified in the prescription, it will already be adjusted when your new CPAP machine is sent. You won't need to do this on your own since the machine will be ready to use with the proper pressure setting when it comes at your door.
Your doctor will have determined the appropriate titrated pressure for your CPAP treatment during your sleep study. It is not advised that you change your pressure settings without first talking to your doctor. Otherwise, you risk missing out on the greatest treatment option and experiencing less success with your therapy.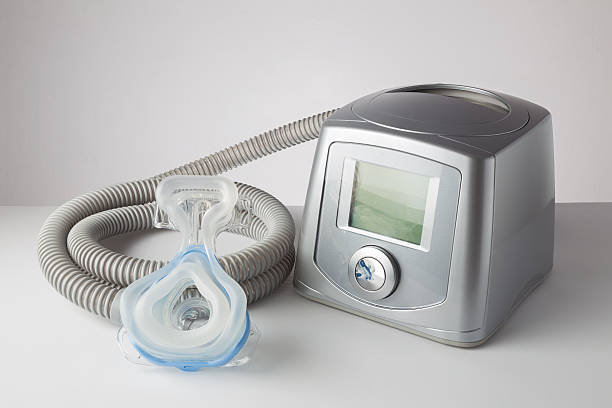 Configuring Your Humidifier
A humidifier isn't an optional piece of equipment for the majority of individuals. Since humidifiers are designed to give moisture to the air during CPAP treatment, using one will reduce your risk of developing a very dry mouth or nose. Some machines come with humidifiers, while others only offer them as an extra accessory. Make sure to budget for one if you believe you may need one when purchasing a new machine.
Simply fill the water chamber of a humidifier with distilled water until it reaches the line (the water chamber should have a line engraved in the plastic to indicate where to stop). The
Usage of distilled water is crucial
Your water chamber will have a tough film left behind from tap water that is hard to remove. Various places have different tap water quality levels, and some residences have subpar tap water. Keep in mind that you will be breathing in the water from your humidifier, therefore it is crucial that it is clean.
Pro tip: Depending on the kind of water you use, cleaning your humidifier might be simple or challenging. Tap water, as previously mentioned, is the worst form of water you may use since it leaves a layer of chalk behind. Vinegar works better than soap and water in removing the chalky film because it performs a fantastic job of cutting through the deposits.
Use a humidifier to help you stay committed to your treatment.
You're losing out if you've never combined your CPAP treatment with a humidifier! Humidifiers provide moisture to the treatment air, which helps to lessen mouth or sinus dryness and makes you feel refreshed in the morning. In the absence of a humidifier, the compressed air may awaken you feeling very dry and parched. This is a typical complaint about CPAP treatment, but it may be readily resolved.